Ritratto di giovane donna del Correggio
Periodo:
24 Oct 2019 - 08 Mar 2020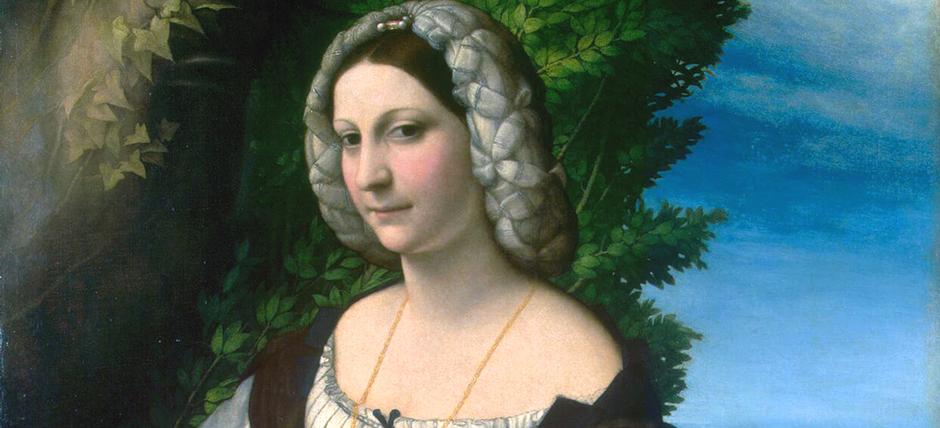 For five months the Chiostri di San Pietro in Reggio Emilia will host one of the Renaissance masterpieces: the Portrait of a Young Woman by Correggio.
The work, an exceptional loan from the Hermitage Museum in St. Petersburg, reaches one of the Reggio Emilia artist's chosen lands, five centuries after its execution, around 1520, thanks to an agreement signed by the city of Reggio Emilia and the Foundation Palazzo Magnani with the Russian institution.
The Portrait of a Young Woman by Antonio Allegri called il Correggio (c.1489-1534) is certainly the most important portrait painted by the painter. Nothing is known of the client and of the subsequent collecting events of the painting: his first modern appearance is in the collection of Prince Yusupov in the Russia of the early twentieth century.
About a century ago, scholars became aware of one of the most singular aspects of the painting, that is, of the writing that runs along the edge of the golden cup in the hands of the girl: a quotation from Homer's Odyssey which shows how much the client belonged to a high-level cultural context, first of all passionate about classical literature.
The belonging of the young woman to a high rank is demonstrated, moreover, by the composed elegance of the clothes, the sober presence of jewels, the elaborate decoration of the hairstyle: these are typical forms of women's fashion of the early sixteenth century, but treated with great originality.
The exhibition of the young woman will also allow us to take up the state of art on the many uncertain aspects that characterize the painting: the name of the person portrayed, the interpretation of the signs and symbols that adorn it, the purposes for which it was painted. Attempts to identify the woman started early, and Roberto Longhi, one of the most important Italian art historians, first tried to see the poet Veronica Gambara in the lady of Correggio; other scholars, even recently, have proposed different ways to identify the lady.
Beyond his identity, we are faced with one of the most incisive proofs of the Correggio painter, most probably recently returned to Emilia from the trip to Rome and from the comparison with the works of Michelangelo and Raphael. And this will take place in an exceptional architectural context, the result of the imprint of another absolute Renaissance artist, such as Giulio Romano. Let's talk about the context of the Benedictine Cloisters of San Pietro, recently the subject of restoration and functional recovery on the impulse of the Municipality and the Superintendency, a cultural display for the first time called to host a masterpiece of painting of this relief.
For further information: Fondazione Palazzo Magnani 
Location:
Palazzo Magnani e Chiostri di San Pietro, Reggio Emilia