WHAT A WONDERFUL WORLD
Periodo:
16 Nov 2019 - 08 Mar 2020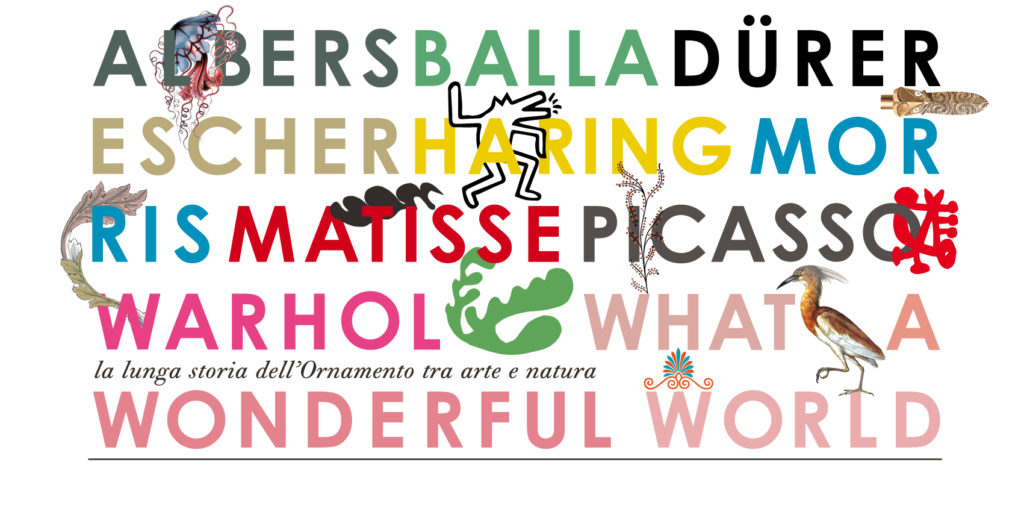 Distributed between Palazzo Magnani and the Cloisters of San Pietro (RE), the Palazzo Magnani Foundation proposes, through an exhibition, a fascinating and unprecedented journey through the centuries, to understand how much the Decoration and the Ornament tell about us and the world.
The exhibition – promoted by the Palazzo Magnani Foundation, in collaboration with the Municipality of Reggio Emilia, the Province of Reggio Emilia, the Emilia Romagna Region and the Ministry of Cultural Heritage and Activities and Tourism – traces some of the many aspects in which the action is expressed ornamental through over 200 works, coming from important private collections and from national and international museum institutions.
The exhibition intends to investigate the origins and developments of the multifaceted marriage between daily life, art and decoration and then to deal in detail with the experiences of so much twentieth-century and new millennium art in which the themes of the Ornament were again put back into game.
Through the various sections that touch on various themes: from nature, to technique, to craftsmanship, even local thanks to the Ars Canusina, to its differences between the various cultures of the world, without forgetting writing and calligraphy. It continues with an excursion into the art of the 1800s and 1900s, which made the field of confrontation and confrontation, ending with contemporaneity and music with the theme of the "arabesque", in particular in authors such as Claude Debussy, who used the term as the title of one of his famous compositions.
The "What a wonderful world" exhibition will be an opportunity to learn about the extraordinary heritage of works and testimonies preserved in the area between Reggio Emilia, Parma, Piacenza, Modena and Bologna, from which many of the exhibited works come. This is divided between the two exhibition sites of Palazzo Magnani and the Chiostri di San Pietro: in the first it will be possible to appreciate the story characterized by ancient and historicized works of art, with suggestive forays into the contemporary field aimed at highlighting the legacies and the continuous references, present over the centuries, among the artistic forms. In the seat of the Cloisters of San Pietro, instead, the relationship and the weights are reversed, with contemporary art being the protagonist, from time to time flanked by ancient or modern pieces.
The Palazzo Magnani Foundation also confirms the attention to people with physical and mental disabilities, in close collaboration with the Reggio Emilia City Without Barriers Project, enriching the exhibition with a series of reproductions of some works to make them accessible to all.
For further informations: Fondazione Palazzo Magnani 
Location:
Palazzo Magnani e Chiostri di San Pietro, Reggio Emilia