Leggere – Steve McCurry
Periodo:
13 Sep 2019 - 06 Jan 2020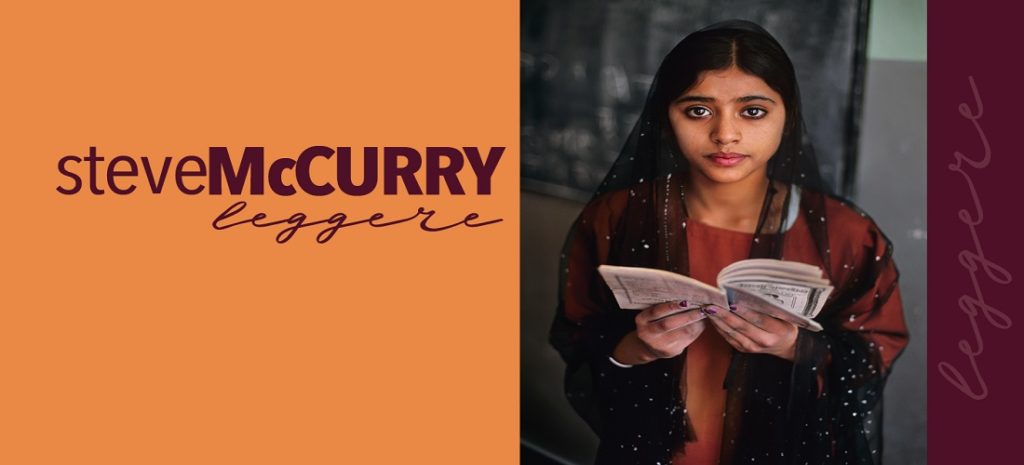 From 13 September 2019 to 6 January 2020, the Exhibition Hall of the Galleria Estensi of Modena hosts the exhibition Leggere by Steve McCurry, one of the most internationally celebrated photographers for his ability to interpret the time and the current society.
In church or mosque, in the streets or at home, in a market, under a tent, in the middle of nature or in a metropolis, in winter or in summer. Turkey, Italy, United States, Cuba, Afghanistan, India, South Africa. Whether they read a magazine, a comic book or a book, whether they are young or old, rich or poor, religious or lay, for anyone and wherever there is a moment for reading. Roberto Cotroneo then associates a passage with each shot, further involving us and giving us the impression of reading the subject's own words by peeking over his shoulder, in a direct and intimate relationship with him.
Every shot depicts a person, caught in the intimate act of reading, coming from every corner of the world to witness the magical and universal power that reading has on the human soul. Immortalized by McCurry's objective that confirms his ability to transport them to imagined worlds, in memories, in the present, in the past and in the future and in the mind of man, it is instantaneous to feel transported in these shots and to recognize oneself in the faces and emotions of the subjects.
The exhibition, promoted by the Galleria Estensi Modena, organized by Civita Mostre e Musei, curated by Biba Giacchetti, presents 70 images, includes the series that he himself brought together in a volume, published as a tribute to the great Hungarian photographer André Kertész, one of the his masters.
Completing the exhibition is the Leggere McCurry section, dedicated to books published since 1985 with the photos of Steve McCurry, many of which have been translated into various languages: 15 are on display, some of which are nowhere to be found, and all are books accompanied by photos used for the covers, often the same icons that made it famous all over the world.
For more information: Gallerie Estensi
Location:
Galleria Estense, Modena